Family Photography |Dover, DE | The Cross Family
Over Christmas, I ran a Free Mini Session contest for military families.  Living in Middletown, we are very close to the Dover Air force base and I wanted to give back.  Our military and their families give so so much to protect us and our freedom.  The Cross family was one of 7 entries.  Each family was incredibly gracious and had awesome stories to tell.  The Cross Family won the session by receiving over 200 votes!  It was truly my pleasure to donate this session to them and give them the digital images with a print release.  Thank you again to all my families who entered.  I look forward to running this same contest next year at Christmas as well.
Below is a blurb from Kim's entry.
"My name is Kimberly Cross and I'm from Lewes, Delaware. I met my husband, Tim Cross, when I was a junior in college. To say that it was love at first sight is putting it lightly – I knew within a few weeks of dating Tim that I had found my forever love. In our first six months of dating, Tim was deployed on his second tour of duty to Iraq. It felt almost impossible to say goodbye to someone I had just fell so hard for, but Tim and I hung on as tight as we could and made it through his year long deployment together. He even made it back in time to surprise me at my college graduation!
A few years later, we were blessed with the most adorable little girl, Isabella Cross – or as we like to call her, Bella. It was a wild ride learning to be parents, but I couldn't imagine doing it with anyone else but Tim. He is a caring and loving father and the best husband any woman could ask for. When Bella turned two, we found that that Tim was being deployed for the third time, this time to Afghanistan. Although we had done it before, it seemed virtually impossible to do it now that we had our daughter. But with a lot of love and perseverance, a few tears and of course – Skype!, Tim made it through his third tour and Daddy returned home safe and sound to Bella and I.
Unfortunately, we still haven't gotten him back completely. Tim was wounded in the last month of his tour in Afghanistan and is currently stationed at Fort Belvoir outside of Washington DC receiving physical therapy and treatment for his injuries. While his recovery is going strong and we get to see Tim on the weekends as much as we can, Bella and I miss her daddy and my husband very much. Tim, Bella, and I are all looking forward to the day that we are reunited and can finally be a family – together – again."
To read her entire entry click HERE.
I must say- What an absolute pleasure it has been to photograph this sweet family.  Thank you again to Tim for his service to our country and to Kim and Bella for their sacrifice.  It has been a blessing to me to be able to give back <3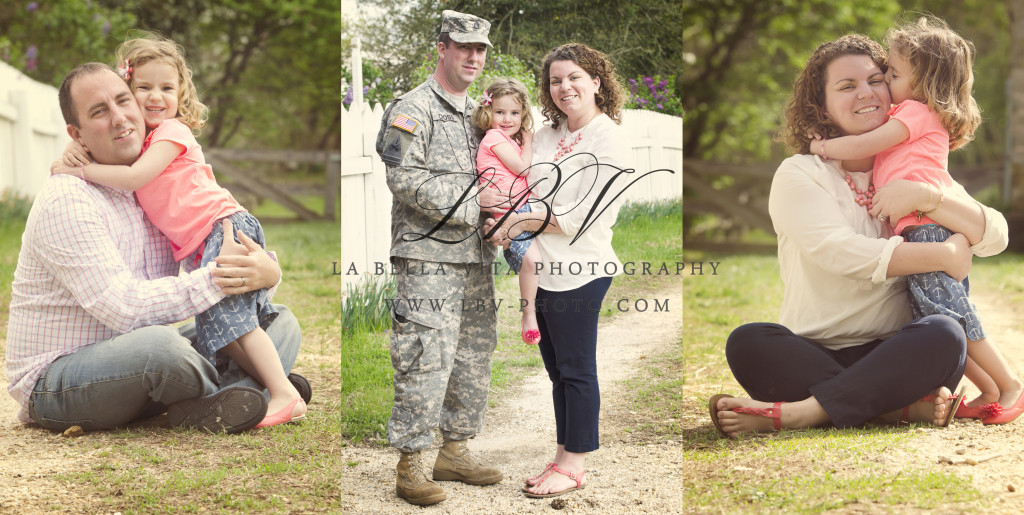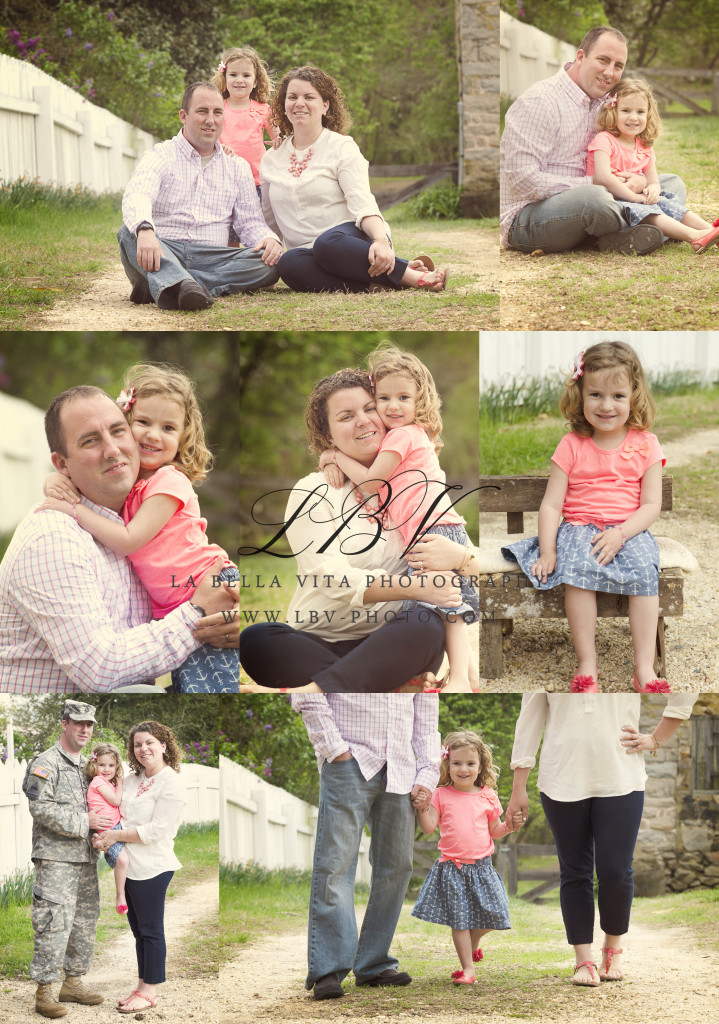 I am currently booking family and newborn shoots for 2014 and now 2015!! It is never to early to reserve your preferred date.  We are experts at photographing your beautiful little ones and making them smile.  <3  My Fall sessions book up incredibly quick.  I am taking dates right now for the Fall.  To reserve your session, you just need to send in your retainer fee and sign a contract- then we are good to go! <3
We also offer an awesome Belly to Baby package that includes a pregnancy or gender reveal, a maternity shoot, and then a newborn shoot!   If you would like to find out more information about our belly to baby package, you can contact me via email at LBVfoto@gmail.com.  You can also call me at (814) 931-2170.  If you would like to see more of my work- check out my newborn gallery, my maternity gallery,  children's photography by clicking HERE and more of my family photography by clicking HERE..  I recently wrote a helpful blog post about what to expect when you have your newborn session with LaBella Vita Photography.  You can also check out my facebook page to see my current work! <3  I can't wait to chat with you!!!
We also have an awesome referral program! For every friend you refer who books- you get a $25 print credit! <3  If you book a session and tell me that Jen sent you- she will get a $25 print credit!